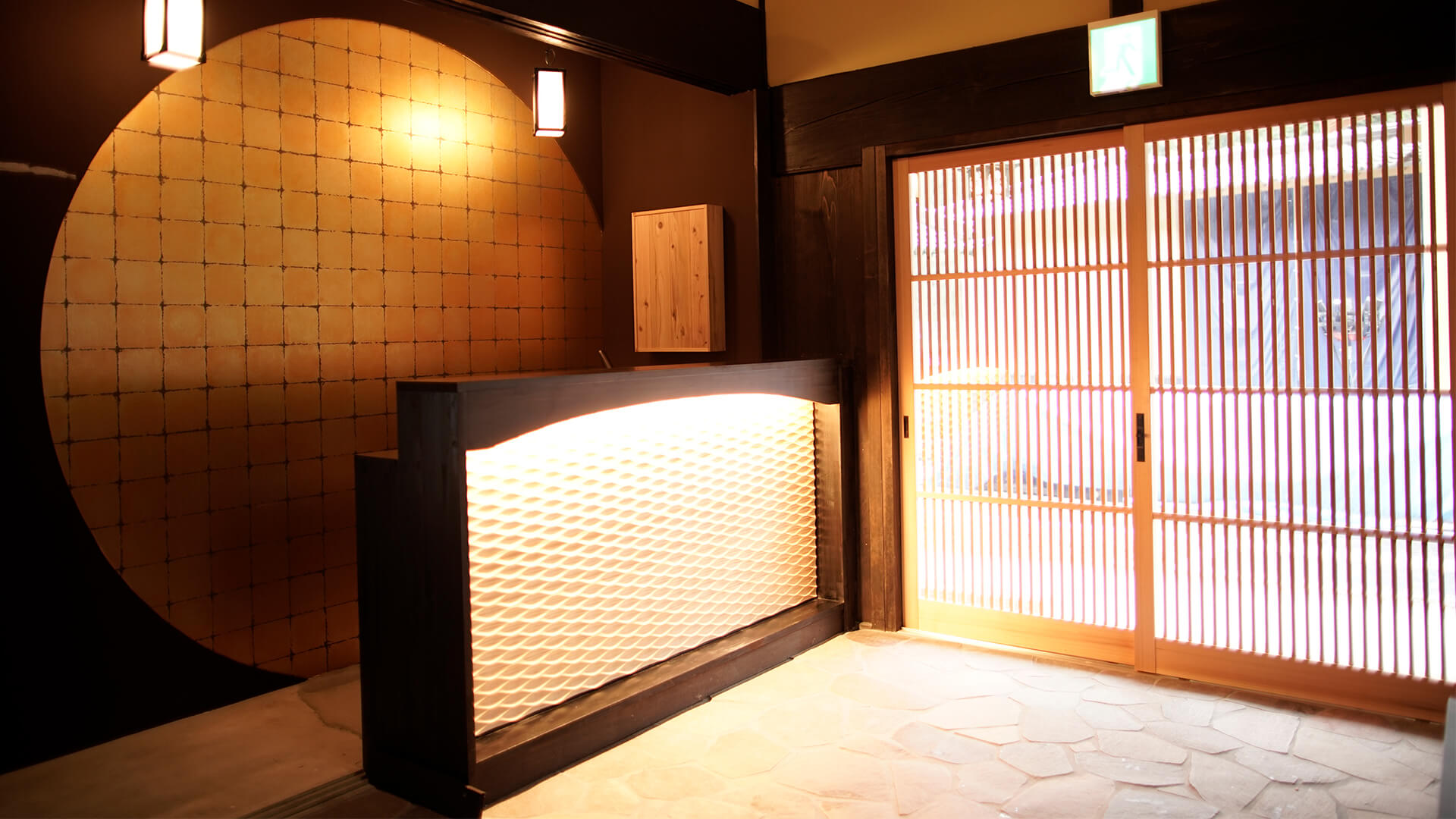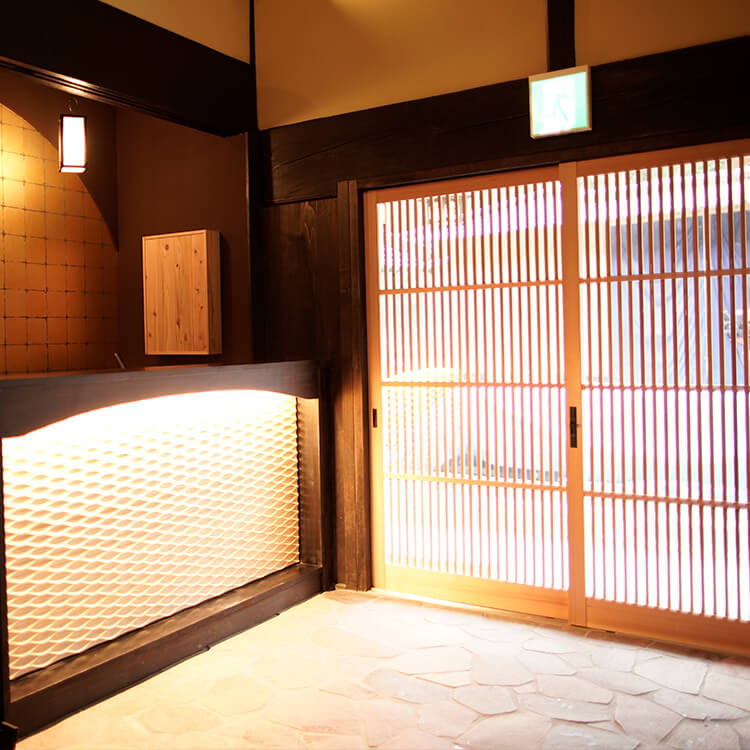 The NEOLD Private House is also available as an accommodation option. Reservations are limited to one party at a time, allowing guests to spend quality time in complete privacy. Limited to one group per day, allowing you to spend quality time in complete privacy. NEOLD Private House is nestled near Mount Yoshino in Nara Prefecture, one of the many UNESCO World Heritage Sites in Japan. It is known for its famed 10,000 cherry blossoms that bloom every spring.
Feel free to contact us should you have enquiries about accommodation.

Dining Experience
Dine in luxurious comfort when you stay with us a NEOLD Private House.
All ingredients are carefully selected according to freshness and seasonal availability.
Each morning begins with a 40-kilometer drive to directly purchase the freshest and most quality ingredients.
These are all meticulously selected by hand and will be rejected at even the slightest dissatisfaction.
Some of our vegetables are even grown and harvested by the chef and manager himself.
We invite guests to have a taste of our homegrown, organic produce.
In addition, we have curated a wide collection of sake to enhance the flavors of both the dish and the sake itself.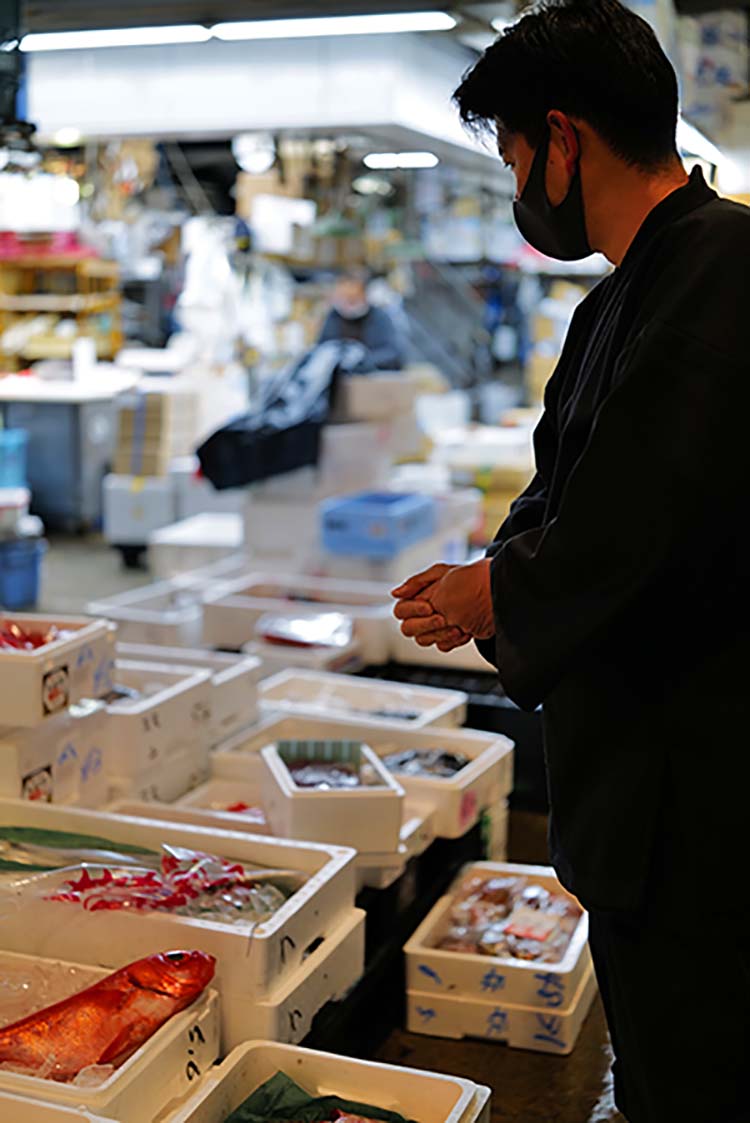 Guests staying with us for more than one night are invited for a complimentary visit to the fresh market
to experience and learn about the selection process.
The ingredients purchased that day will served at dinner.
Features of NEOLD
Feel as though you've slipped back into Japan's Edo period from the moment you step through our doors.
The total grounds of NEOLD Private House span around 2,100 square meters and
holds three main structures: an authentic Noh stage, the main hall, and a detached bedroom.
The main building comprises of the dining room, tatami-covered living area, and a sunken hearth next to a stone water feature.
The second floor leads to a tatami bedroom, as well as a door out to the roof deck.
A secret, second set of stairs will lead you to a hidden bedroom as well.
The detached main bedroom spans 41 square meters with a set of stone steps leading down to a basement bar.
NEOLD Private House has preserved several features from the original 100-year-old house and have added on a few extras!
We invite guests to spot some old structures we've retained or ask our staff about them.
Outdoor Bath & Shower
The main building offers both a private open-air bath ('rotenburo' in Japanese) and a standing shower option for the comfort of our guests.
All shower and sink areas have heaters installed for your comfort.
The rotenburo is a Japanese outdoor bath, where one can soak and feel the tension from day-to-day life being stripped away,
replaced by the soothing ebb and flow of the bath.
As winters in Yoshino get a little chilly, the shower room is equipped with an overhead rain shower –
known to deliver consistent water pressure and temperature for the most relaxing of showers.
We hope that these detailed additions help alleviate the fatigue of travel.
In addition, we offer a traditional medicinal bath if you wish to use the rotenburo.
The Nara Prefecture has been cultivating medicinal plants since ancient times and is still famous nationwide
for the maintenance of traditional medicine and quality plants.
Sleeping at NEOLD
In order to provide the best sleeping experience for all our guests, we have carefully selected beds and futons that we have tried and tested for ourselves.
The master bedroom is fitted with two semi-double luxury beds from the highly acclaimed mattress brand Serta;
their products grace the suites of top hotels worldwide.
The futons used in the main building were custom-made for NEOLD.
These premium futons are plush and firm to the touch, making sleeping on the floor luxurious experience.
Our comforters contain photoelectron fiber technology – patented in 12 countries – to retain your natural body heat and relieve stress while you're asleep.
Sink into the ultimate restful experience when you stay with us at NEOLD.
Comfort and Health
NEOLD Private House is a 120-year-old traditional Japanese villa that has been modernized and upgraded with all the comforts of the 21st century.
The temperatures in Yoshino frequently dip beyond freezing with the occasional heavy snowfall in the winter seasons,
but the entire facility has been designed to be warm and cozy on the inside,
yet the clear sliding doors allow guests to enjoy with picturesque winter landscape.
Subsequently, the air-conditioning and high ceiling fans offer a breezy respite in the summer months.
All towels provided at NEOLD were specially produced in Imabari in the Ehime Prefecture.
Imabari is known as the top producer of towels in Japan, with the natural soft water of the region
making the towels the produce both highly absorbent yet extremely fluffy.
With the spread of COVID-19, we have also installed ozone generators for air purification, and provided hand sanitizer dispensers throughout the facility.
We have also been certified with three stars in accordance with the Nara Prefecture Novel Coronavirus Infection Prevention Facility Certification System.
Landscape & Scenery
NEOLD Private House is tucked in the mountains of Yoshino, away from the hustle and bustle of the city,
where one can enjoy the natural healing of lush greenery.
The heart of the facility houses an authentic Noh Stage, constructed in the spirit of old Japanese tradition,
supervised by supervised by Noh performer Taichiro Nomura from the Izumi School.
During the Edo period, Noh gained popularity under the influence of Shogun Tokugawa,
and Noh stages began to be common sight within the personal gardens of elite society.
At NEOLD, most of the rooms offer a view of the Noh stage, with the detached bedroom offering a unique view from the side –
giving guests a taste of the life of nobility back in the Edo period in Japan.
Activities & Experiences
The area around NEOLD Private House offers a myriad of enriching activities for both adults and children.
The surrounding area of Yoshino has over 30,000 cherry trees planted around the slopes, attracting visitors from all over Japan and overseas.
It is also home to several UNESCO World Heritage Sites like Kinpusenji Temple and the Zao-do Hall.
In addition, fishing enthusiasts will be pleased to know that Yoshino River is brimming with sweetfish and conger eels in the summer,
while winter brings a local variety of smelt called wakasagi.
We're happy to provide complimentary fishing equipment and even prepare and serve up your catch of the day for you!
Apart from fishing, other riverside activities include canoeing and riverside barbeques –
with all equipment and ingredients provided by us, of course.
Join us for a stress-free, fuss-free, relaxing family vacation here at NEOLD!
Experience Options
It's no secret that Japan has a long-standing, rich history when it comes to art and culture.
From private performances on a private stage to exclusive lessons with world-renowned masters of the craft,
the vast history of Japan is made accessible at NEOLD.
You can choose to book these experiences as a day trip, or add them on to your stay during The Shogun Experience.
By bringing together the NEO (new) and OLD,
NEOLD Private House is the only place in Japan that offers such an intimate, direct access to traditional arts in a private setting.
Our staff are happy to accommodate for private parties – be it a company anniversary or a milestone birthday.
Make your next event a memorable one with us!
Price List (Tax Included)
Breakfast Plan - Weekday
(2D1N, 1 guest)
62,810 JPY
Breakfast & Dinner Plan - Weekday
(2D1N, 1 guest)
84,810 JPY
Breakfast Plan – Friday, Saturday, day before Public Holidays
(2D1N, 1 guest)
69,850 JPY
Breakfast & Dinner Plan – Friday, Saturday, day before Public Holidays
(2D1N, 1 guest)
91,850 JPY
Breakfast Plan – Peak Period Dates*
*Dec 25 – Jan 3, Mar 19 – Apr 23, Apr 29 – Mar 5, Aug 13 – Aug 15
(2D1N, 1 guest)
76,780 JPY
Breakfast & Dinner Plan – Peak Period Dates*
*Dec 25 – Jan 3, Mar 19 – Apr 23, Apr 29 – Mar 5, Aug 13 – Aug 15
(2D1N, 1 guest)
98,780 JPY
*The facility can accommodate a maximum of 10 people
*Subsequent nights are charged as above.
Reservations must be made at least 7 days before the start of your stay.
Reservations are only confirmed upon payment.
Children
Breakfast Plan
Under 12 years old

From 13 to 18 years old
Breakfast & Dinner Plan
Under 5 years old

From 6 to 12 years old

From 13 to 18 years old
Cancelations and Refund Policy
Cancelations
7 days before start date

4 - 7 days before start date

2 - 3 days before start date

1 day before start date

Less than 24 hours before start date / No-show
In the event of unforeseen circumstances (severe illness, weather etc.), kindly let us know as soon as possible to discuss your options.
It is advisable to purchase travel insurance to provide coverage for any unexpected travel cancellations or interruptions, medical emergencies, and/or baggage loss.

There are a myraid of activites for both adults and children to enjoy around the facility.
Complimentary Activities
All are complimentary for guests staying with us.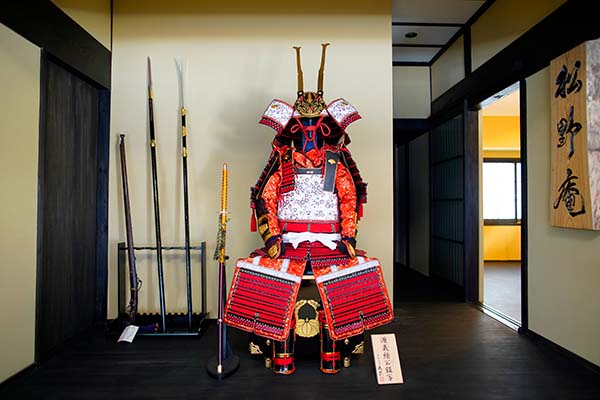 Commemorative Photo with Samurai Helmet
Season: Year-round
Location: NEOLD Main Hall
Hours: Flexible
Conditions: None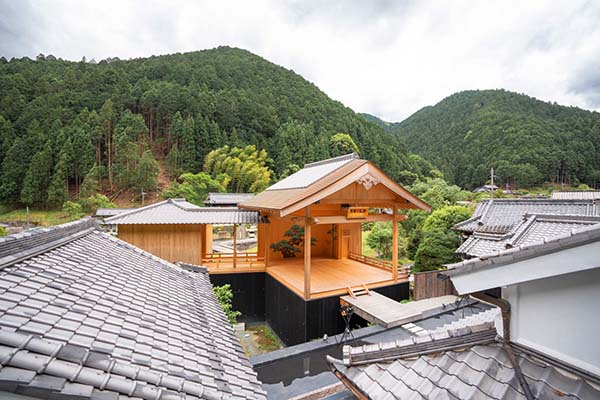 Bask in Nature on the Rooftop
Season: Early April to early October
Location: NEOLD Roof Deck
Hours: Flexible
Conditions: No rain, not too much direct sunlight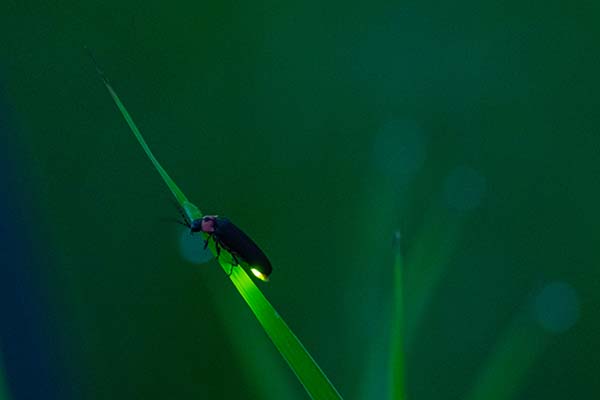 Spot Summer Fireflies!
Type: Genji-botaru
Season: Mid-June to early July
Location: Upstream of the creek in front of NEOLD
Hours: 8:00 p.m - 10:00 p.m.
Conditions: Humid days with no wind or rain, cloudy days with no moonlight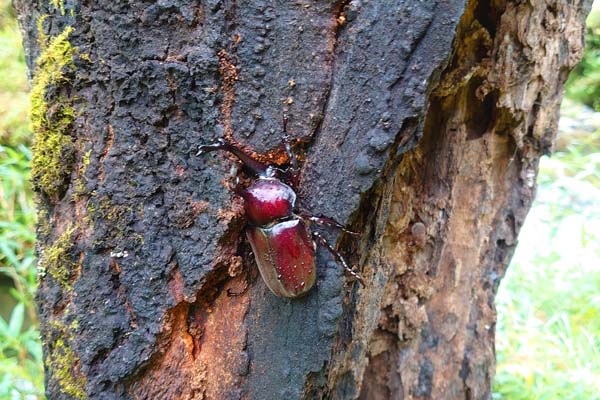 Hunt for Horned Beetles and Stag Beetles
Type: Horned Beetle, Miyama Stag Beetle, Sawtooth Stag Beetle
Season: Mid-June to mid-August
Location: Secret
Hours: 7:00 p.m. to 8:00 p.m., 4:00 a.m. to 6:00 a.m.
Conditions: Hot and humid days, with no wind or no rain
Paid Activities
For reservations and inquiries about the following activities, kindly inform us when booking your accommodation.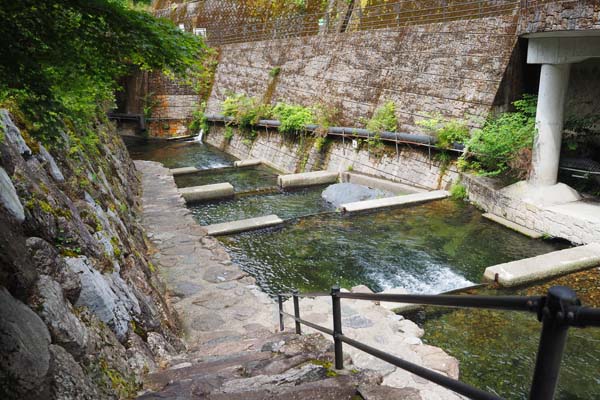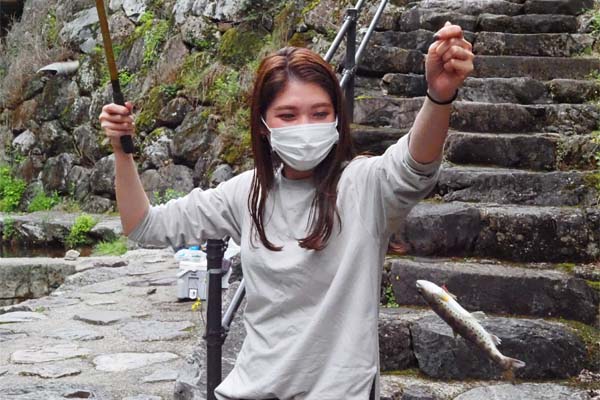 Amago (Trout) Fishing & BBQ  
(25 mins by car from NEOLD)
Facility: Ihika-no-Sato Morimorikan
Address: 520-38 Ikari, Kawakami, Yoshino-gun, Nara 639-3623
Contact: +81-7465-4-0223
Opening Hours: 8:00a.m. to 5:00p.m.
Holidays: No fixed closing days
URL: https://www.vill.kawakami.nara.jp/kanko/docs/2017022500157/
Hand Fishing for trout: 4,300 JPY (1 kg of fish released)
Stream fishing for trout: 4,300 JPY (1 kg of fish released)
Rental fishing rod: 300 JPY
Bait: 400-600 JPY
BBQ (6 people): from 3,000 JPY (Grill net and tongs provided)
*Food to be brought by guests.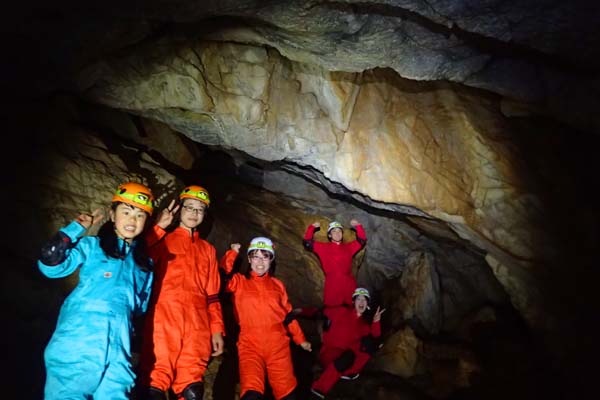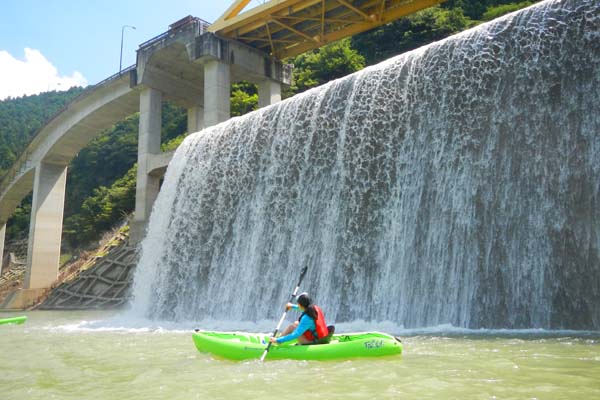 Cave Spelunking & Kayaking 
(15 mins by car from NEOLD)
Facility: Yama-asobi Juku Yoiyoi Kawakami
Address: 344-15 Nishigawa, Kawakami, Yoshino-gun, Nara 639-3542
Contact: +81-70-4145-3223
Opening Hours: 9:00a.m. to 5:00p.m.
URL: https://www.yoiyoi-kawakami.com/
● Family Spelunking (Cave Exploration)
Adults: from 8,500 JPY
Children: from 8,000 JPY (ages 5 and up)
● Seriously Fun Spelunking (Adventure Caving)
Adults & Children: from 12,000 JPY
● Omine Garden Icicles! Snow trekking with an experienced guide. (Includes lunch / hot spring)
Adults & Children: from 12,000 JPY
● Great for Beginners (Kayaking in Lake Otaki-ryujin)
Adults: from 7,000 JPY
Children: from 6,500 JPY (ages 4 and up)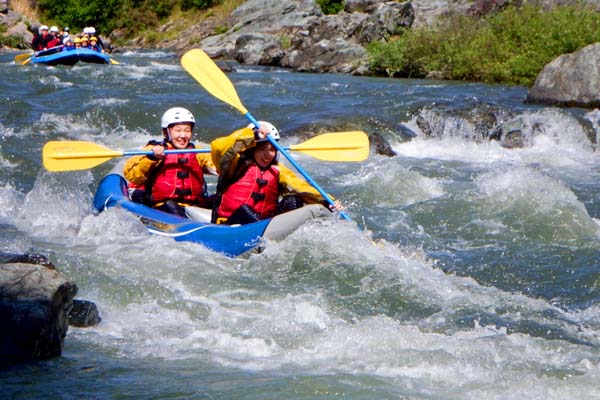 Yoshino/Nara River Rafting & Duckying (Inflatable Kayak) 
(30 mins by car from NEOLD)
Facility: Cocoro Outdoor Tour Nara Base
Address: 45-2 Sanate, Oyodo-cho, Yoshino-gun, Nara
Contact: +81-747-55-4105
Opening Hours: 8:00a.m. to 8:00p.m.
URL: https://nature-cocoro.com/
Dates: April 1 through the end of November
Requirements: Children aged 15 and younger must be accompanied by a parent or guardian; parental consent required for those below 18.
● Rafting: Ages 4 and up; in good physical health
● Ducky Tours: Ages 10 and up; in good physical health
Participants: Minimum 2 people
Fee (inclusive of guide fee, insurance, and basic equipment rental
● Rafting: Adults 6,600 JPY; children 12 and under 5,500 JPY
● Duckying: Adult 7,700 JPY; children 12 and under 6,600 JPY
Equipment Provided: Helmet, life jacket.

Kisadani
Kisa no Ogawa / Takataki Waterfall
Yoshino has a long history of cultivating man-made Japanese cedar and cypress forests for over 400 years.
Kisa no Ogawa is a small stream that runs through a grove of cedar trees with clear water and is certified as "Yamato-no-mizu" –
a recognition given to places in Nara that are protected as having been closely related to the locals of the old capital.
It has been written about in many poems throughout history, and with each step one takes,
the sights and sounds of the murmuring water appears to change as it flows into the Yoshino River.
A hiking trail from Kisa no Ogawa leads you to a back path up Mount Yoshino, where you will encounter Takataki along the way.
This 15-meter waterfall is also known as "Uma-arai (horse washing) Falls", coming from the legend that samurai Minamoto no Yoshitsune washed his horse here whilst escaping from Yoshino.

Sakuragi Shrine
5-minute walk from NEOLD
Sakuraji-jinja has long been worshipped by people from far and wide as a shrine to ward off smallpox and plagues.
Today, it's a tourist location enshrining the 40th Emperor Tenmu.
Yoshino River / Miyataki
15-minute walk, or 5-minute drive from NEOLD
Miyataki is a scenic spot upstream of the Yoshino River, with intersecting pools and rapids, flanked by large oddly-shaped rocks on both sides.
It's the largest river in Western Japan, with rocks that have been exposed to the violent currents of the Yoshino River for many years, forming the organic shapes we see today.
It is said that the Emperor Tenmu and Empress Jitō often visited this very spot.
Though it has "taki", meaning waterfall in Japanese in its name, it is not a waterfall but rather fast-flowing rapids.
Miyataki has been well-known since the Edo period, and is depicted in "Yamato Meisho Zue", an ancient guidebook of that era.
Mount Yoshino
20-minute drive, 1-hour hike from NEOLD
Mount Yoshino in Nara Prefecture is Japan's most famous cherry blossom spot. It features over 30,000 cherry trees planted around the slopes which visitors can admire as they walk along the roads that lead up the mountain.
The trees are divided into four distinct sections: the Shimo Senbon at the foot of the mountain, the Naka Senbon in the middle, the Kami Senbon,
or the trees in the upper section, and the final one at the summit, the Oku Senbon.
Mount Yoshino has also been recognized as part of the top 100 places to view cherry blossoms in Japan.
Though famous for being one of the best cherry blossom viewing spots, Mount Yoshino can be enjoyed year-round;
with the distinct change in seasons being part of its charm.
Yoshino also offers a rich history: as the base of the pilgrimage trail to sacred Mount Omine,
Yoshinoyama has been a center of Shugendo mountain worship for many centuries.
In 2004, Yoshino, together with Mount Koya and Kumano, was designated a cultural UNESCO World Heritage Site named
the "Sacred Sites and Pilgrimage Routes in the Kii Mountain Range". Scattered in and around Mount Yoshino are also shrines and temples registered as National Treasures and Important Cultural Properties.
Lake Tsuburo
15-minute drive from NEOLD
Lake Tsuburo is an artificial lake created by a dam at Tsuburo River, which flows into the Yoshino River.
The lake spans 32 km in circumference and 150 hectares in size.
Visitors can also enjoy cherry blossoms and fresh greenery in spring, autumn leaves in fall, and wakasagi (smelt) fishing in winter.
Boating, cycling, and hiking around the lake are also popular activities throughout the year.