Matsu-no-an
Get up close and personal with our private chef at Matsu-no-an, the counter dining space at NEOLD.
All meals are bespoke, with hand-picked seasonal ingredients prepared with finesse right before your eyes.
Guests can customize meals to their taste with the assurance that the quality will remain sublime, no matter the dietary restrictions.
Let us show you the epitome of omotenashi - the art of hospitality.
Lunch and dinner service is limited to one group per day (maximum 6 people).
Kindly send us an enquiry for parties above 6.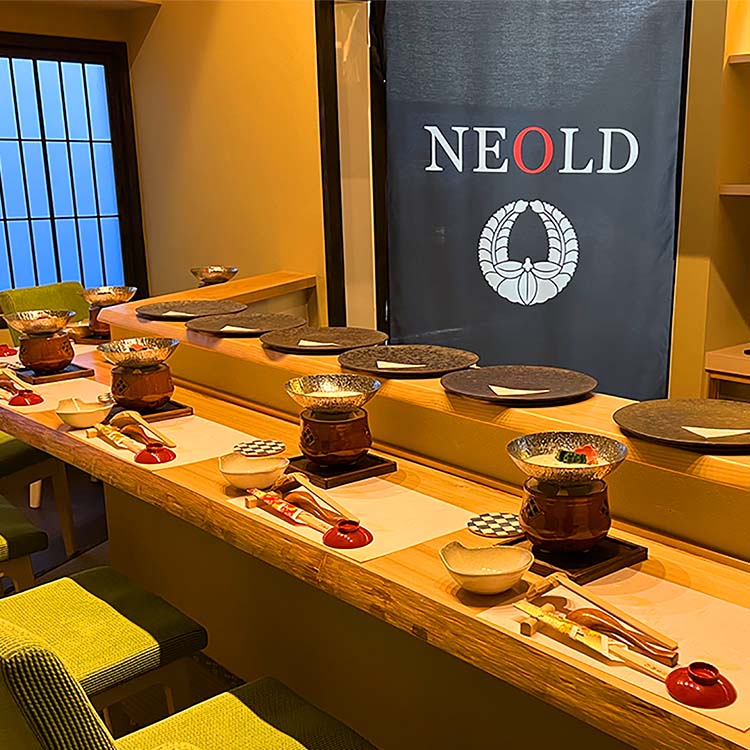 Irori
The irori is a traditional Japanese sunken hearth used to heat the home and cook food.
Guests can a warm, relaxing meal in the hearth next to our indoor waterfall.
Lunch and dinner service is limited to one group per day (maximum 6 people).
Kindly send us an enquiry for parties above 6.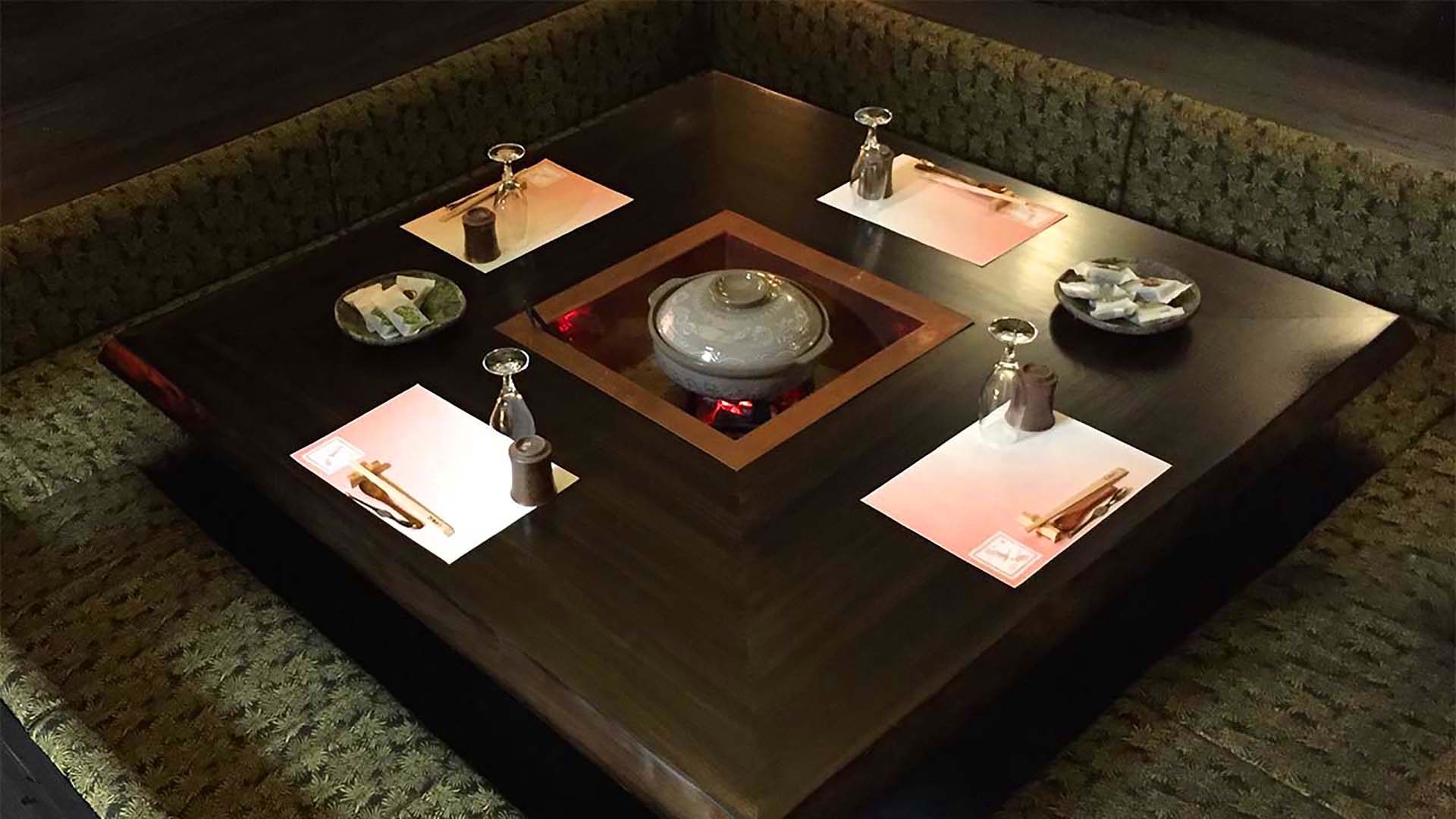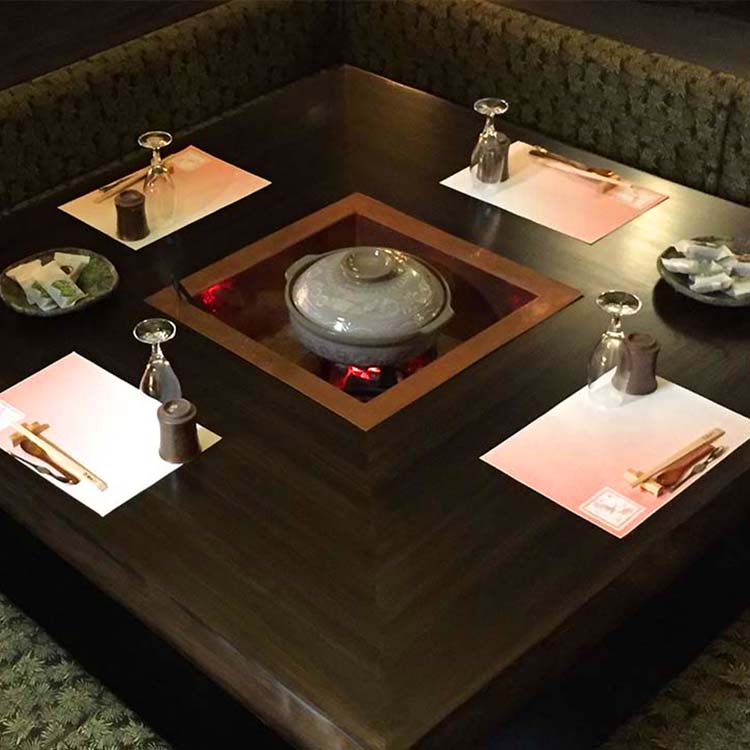 Commitment to Quality
At NEOLD, we are committed to serving only the best in each season,
which is why every morning starts off with a 40km one-way trip to the market to procure the freshest ingredients, right off the fishing boats.
Everything is personally scrutinized with care by the head chef (and general manager) and no flaw is overlooked.
We are constantly communicating with the market suppliers;
being informed of the changes in weather and climate, allowing the head chef to discern the best dishes for the season.
On top of that, our head chef also grows and harvests some of the vegetables himself to provide the freshest produce.
The concept of farm-to-table has been gaining popularity these days, and we make it a point to use local sources as much as possible.
As we are in the ancient capital Nara, we use Yamato wagyu, characterized by its sweet, red color and tenderness.
We also obtain Shibayama Snow Crabs directly from the fishery;
these precious crabs aren't sold outside of the region of Shibayama in the Hyogo Prefecture.
To further our commitment to sustainability, we also occasionally serve wild game, like deer or wild boar native to the region.
If you'd like to try a certain dish, do let us know and we'll do our best to source it just for you.
Traditional Japanese cooking is known for its ability to harness the natural flavor of the ingredients, and at the heart of it, is dashi –
a stock made of dried kelp, bonito, and sardines.
Our dashi is made of a blend of high-quality kelp and dried fish, giving a unique, complex umami flavor you must taste for yourself.
Guests can rest assured that all ingredients served are the best quality of the season when you dine at NEOLD Private House.
Bespoke Omakase Dining
Kaiseki is a Japanese multi-course meal, typically served over 8-9 courses in a specific order.
The prescribed order of each course is carefully designed, and all ingredients are selected based on the seasonal availability.
'Omakase'お任せ means "I'll leave it to you" – it's where the guest leaves it up to the chef to handpick seasonal specialties.
At NEOLD, we want our guests to experience the height of authentic Japanese cuisine, regardless of dietary preferences.
When you make a reservation with us, we'll send an e-mail to discuss your likes, dislikes, and dietary restrictions.
Based on that information, we'll design a bespoke course menu just for you, taking into consideration the seasonal availabilities of the ingredients.
A few examples of special courses include: vegetarian/vegan, gluten free, meat sampling (beef, deer, boar, etc.), snow crab, seasonal fish.
We accommodate all special requests, whilst maintaining exceptional quality and authenticity.
Sake Pairing
We offer a wide selection of local sake from Nara Prefecture, notably Junmai Daiginjo "Mimorosugi" from brewery Imanishi Shuzo, founded in 1660.
We offer sake pairing recommendations according to the season and the dishes served,
bringing out the best in both food and drink.
In addition, we also have a variety of locally produced wine and liquor, including the highly coveted Yamazaki 21-year whiskey.
About the Head Chef / Manager
Kimihiro Ogino
Holds a certified license in handling blowfish (fugu),
certificate for specializing in traditional Japanese cuisine, on top of an official chef's license.
Since 1997, he has trained at numerous prestigious restaurants (kaiseki, hotels, ryokan, etc.),
honing his skills by focusing on Japanese cuisine.
In 2020, he was appointed as the manager and chef of NEOLD Private House.
He placed second in Japan for his Japanese-Western style sushi, created using both culinary techniques.
His dedication to health also led him to develop sushi dishes without the use of soy sauce.
Message from the Chef
Situated in Yoshino City, Nara, surrounded by mountains and lush nature,
NEOLD is a private villa where guests immerse themselves in Japanese culture.
Once a capital city in feudal Japan, this city in the Yamato Basin has attracted many people since ancient times.
You can get a taste of the "Warring States Period" from 500 years ago through "Washoku",
Japanese food culture, along with other cultural experiences.
We happily welcome families with small children, multi-generational groups, and can cater to any dietary restrictions.
For us to showcase the best of Japanese hospitality and etiquette to our guests,
our experiences are limited to one group per day.
Please feel free to contact us should you have further enquiries.
We look forward to welcoming you to our facility.

Omakase Lunch (per person)
11:30-15:00(LO 14:30)

11,000 JPY ~ (tax included)

Omakase Dinner (per person)
17:30-22:00(LO 21:30)

22,000 JPY ~ (tax included)

Private Outdoor Bath
(Add-on for lunch and dinner guests only)
Prices include tax and service charge.
Drinks are charged separately.
Our omakase course meals are a blend of Japanese and Western cuisine and is limited to one group per day (maximum of 6 guest).
Please contact us for parties over 6 guests, or to discuss budget and/or other requests.
Reservations are required.
Please note that reservations must be made 5 days in advance.
We invite you to dine with us for a memorable, bespoke experience.